A widget to display a list of authors in your WordPress blog. Includes widget options to configure the features mentioned below. Completely updated to use the new widget API and is multi-widget enabled. Fully XHTML compliant.
Screenshots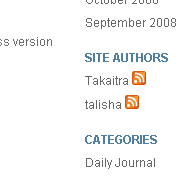 Features
Choose between an HTML list or comma-separated list.
Can show number of published author posts.
Sort authors by name or by post count.
Exclude users below a given post count threshold.
Allows administrator to be excluded from the list.
Choose between displaying usernames or full names in the list.
Can include links to author-specific RSS feeds.
The List Authors plugin is hosted at wordpress.org. You can find the latest features list, installation instructions, and install file there.
Changelog
2.0.1
Small fix for versions of WordPress older than 2.8.
2.0
list can be sorted by name or post count
can limit the number of authors listed
can specify a minimum number of posts required before author is displayed in the list
1.2
updated to use the new WordPress 2.8 widget API
added the HTML/comma-separated list dropdown
now multi-widget enabled
1.1.1
small fix to make the <img> tag for the RSS link XHTML compliant
1.1
initial release